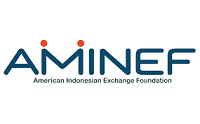 VACANCY ANNOUNCEMENT
American Indonesian Exchange Foundation (AMINEF)
(2) Program Assistants
Jakarta Office Fulbright and related Scholarships for the Indonesian Program
The American Indonesian Exchange Foundation (AMINEF) is a bi-national commission which provides scholarships to both Indonesian and American citizens under the aegis of the Fulbright scholarship program to study, teach, or conduct research.
The successful applicants serve as the Program Assistants for the Indonesian sector of the Fulbright and related programs and will work closely with the Senior Program Officer providing assistance in administrative work in all aspects of Fulbright and related programs selection process and other administrative responsibilities..
The scope of work includes (but is not limited to) interaction with consortiums, sponsors, and grantees; coordination with the U.S. Embassy, Indonesian government counterparts, and some domestic travel to academic institutions.
Minimum qualifications:
University degree,  US/overseas graduate a plus
Minimum of 5 years of professional experience in education sector
Fluency in English, both written and oral, and minimum TOEFL score 550 or above
Willing to work under pressure and perform multitasking job
Please send your application to:
American Indonesian Exchange Foundation (AMINEF) Balai Pustaka, 6th Floor
Jl. Gunung Sahari Raya #4
Jakarta Pusat 10720
Indonesia*