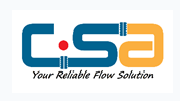 PT. Cipta Solusi Andalan is a flow solution company. We build our nation by providing the most reliable flow solution to our clients. We are exclusive/sole distributor of Crane ChemPharma-Energy products for whole Indonesia territory (valves, actuators, air operated pumps and peristaltic pumps, plastic lined pipes & fittings, expansion joints, and flexible hoses). Crane prestigious brand and trade name portfolio includes Crane, Xomox, Saunders, Pacific, Stockham, Duo-Chek, Noz-Chek, Krombach, Flowseal, Centerline, Jenkins, Aloyco, Triangle, Chapman, and Avid.
Our main clients are in Oil & Gas, Power Generations, Chemicals & Petrochemicals (included Fertilizer and Pulp & Paper), Mining, General Industry, and Water Treatments. We are opening a vacancy the following position to support our business growth.
Position :
FACTORY MANAGER
Placement : CIKARANG
Job Description:
Managing and developing Supply Chain System which include, but not limited, to:

Goods Processing System: Sales Order (SO), Work Order (WO), and Delivery Order (DO).
Workshop/Factory Operation: Welding, Machining, Blasting, Painting, and Testing.
Warehouse Operation: Inventory Management
Logistic Operation: Goods Receiving and Goods Shipping to Customer.

Manage and develop Engineering Process which include, but not limited, to:

Arrange engineering design and calculation for customer's requirement
Solving customer's problem related with engineering issue

Manage Factory Operation to meet standard Safety (S), Quality (Q), Delivery (D), Cost (C), and Productivity (P) refer to ISO 9001, ISO 14001, and ISO 45001 standard
Manage HSE activity for company
anage ERP (Enterprise Resource Planning) system
As HR & GA Representative for Factory Division
Requirement:
Having a good understanding of ERP (Enterprise Resource Planning) system
Having a good understanding of Management System (Quality Management, Environment Management, Safety Management refer to ISO 9001, ISO 14001, and ISO 45001 standard).
Having strong engineering background
Able to do data analysis and data processing with intermediate excel operation
Having experience in handling factory operation are preferable
Having experience in valve industry are preferable
Having a strong leadership and managerial skill
Fluent in english for business purpose
High initiative to improve and develop company's systems.
High passion to learn new things
All candidate shall submit their application tosutrisna@cisa.id
(we'll only review application that sent to this email).